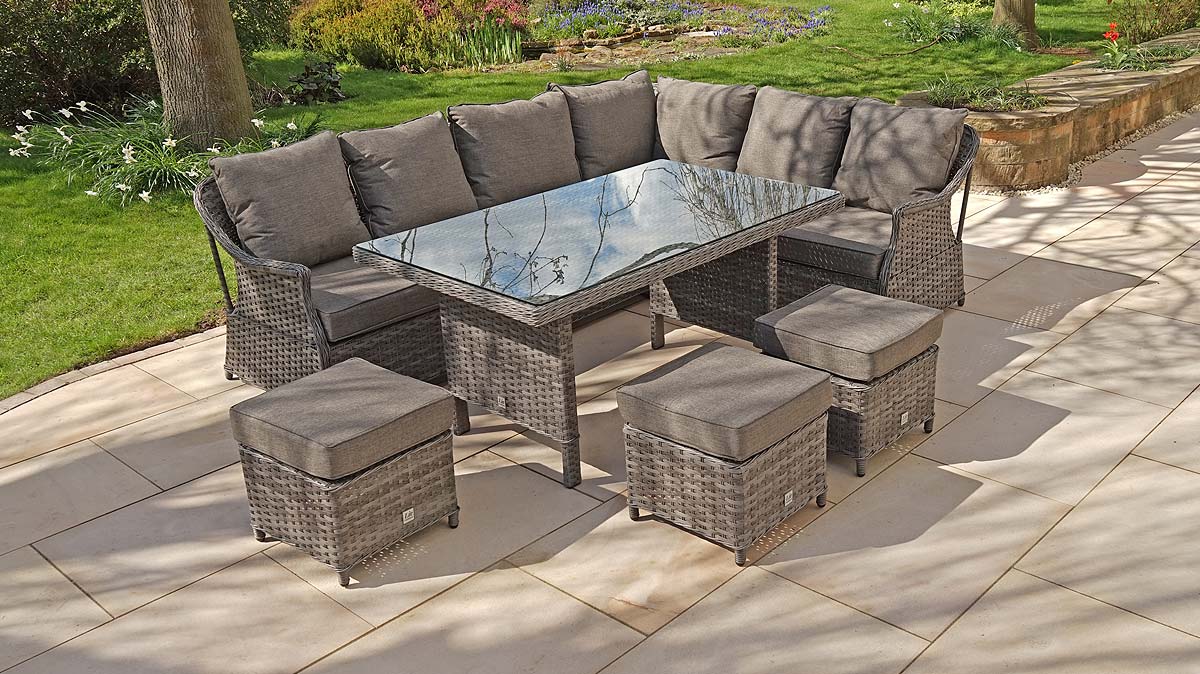 Here at Harts Furniture, we offer a wide range of expertly curated outdoor furniture items, including our incredibly popular Rattan Garden Furniture. Our range extends to a wide range of different styles to suit all tastes as well as accessories and additional pieces of furniture to make sure your set has everything you need.


What Harts Furniture are Known For
Our customers come to us to browse the best and highest quality outdoor furniture. From our famous cube sets and 6-seater round dining sets to our comfy outdoor sofas and sofa dining sets, they are spoilt for choice.
We understand that shopping online can be difficult, so we do not fill our website with too many products to make it more confusing. Our mission is to select a range of products for our customers that are simply the best in the market.

Why Choose Harts Furniture
Over the past 10 years, our products have become increasingly popular, thanks to their great build quality. Working closely with our suppliers we develop and search for products based on our customer's feedback. It is with this feedback that we make changes and enhancements to our furniture, as well as bring out more accessories to keep your outdoor furniture in its best condition.
We are passionate about our garden furniture design, so only great furniture products with outstanding designs feature on our site. As an online retailer, we strive to off prices that can't be beaten by retail suppliers, meaning we you can get high-quality garden furniture in your home for as cheap as possible.
With our expert knowledge of home and garden furniture, we aim to help you find the perfect piece for your home. Our rattan furniture ranges have been developed over many years of experience, with 6 core ranges and different 16 variations of rattans to choose from.
Our Harts Premium range Harts Premium range is one of our core ranges, providing the best value for money for our customers. One of our most popular sets is our Premium cube sets . All our Premium range products come with our quality premium rattan that is UV and weather resistant.
The Kingston range is perfect for those who are looking for a few extras more than our Premium range. The Kingston range use the same great premium rattan but there will be a few additional extras such as recliner dining chairs, thicker cushions and matching coloured cushion covers.
Windsor range is the start of our most luxurious rattans at an affordable price. This range offers more texture in the rattan and has a mixture of our superior double half round weave and round rattan. The strong rattan increases the aesthetics and durability of the rattan furniture. This range also comes with our enhanced luxury grey fabric cushions that are feel amazing while remaining water resistant. Our Windsor range is decorated with twisted round rattan weave.
The Heritage range is one of our most classic and iconic ranges. This range comes with a thicker flat weave and mixed with round weave. The rattan is stronger and more durable than normal pe rattan. Like the Windsor this also comes with our enhanced luxury grey fabric. All our cushions for this set offer amazing comfort.
The Ascot is our newest range with even wider textured rattan weave. This outdoor furniture range comes in more generous sizes than our other range meaning extra comfort and luxury. The taller backs of the chairs and sofas also offer better back support and comfort.


How to get in touch with us
If you have any questions about an aspect of our service, a product of ours or require an update on an order of yours, you may wish to get in touch with us. By visiting our contact us page, you will find the best way to get your question answered, whether that be over the phone or through an email.